Due to the pandemic we will not be hosting the AMC competition at the University of Scranton this year. The MAA is offering an online option which you can read about here.
Taking the AMC
The most important national mathematics competitions for high school students and below are those in the series beginning with AMC 10 and AMC 12 (the American Mathematics Competition).  These are the first in a series of contests (AMC → AIME → USAMO) that are used to decide
who the individual USA national champions are,
who qualifies for the Math Olympiad Summer Program (MOSP – a free summer math training program), and
who will comprise the US math Olympiad team that competes in the International Mathematical Olympiad — the world championship for high school mathematics.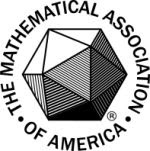 Both MIT and Caltech have had entry blanks on their official admission application forms for the applicant to enter their best AMC and AIME scores.
Which test should I take?
AMC 10 and 12 are offered twice each year in January or February (an A exam and a B exam), and a student can take one A exam and one B exam with the better of the two scores used to determine if they qualify for the subsequent contests and MOSP. Students in 11th and 12th grade should take the AMC 12 twice.  Students in grades 10 and below should take either the AMC 10 twice, or the AMC 12 twice, or one of each. Students in 8th grade and below can also participate in the AMC 8 contest, but AMC 8 does not allow the student to qualify for any of the other things mentioned above.  A student who takes AMC 8 should also take the AMC 10 and/or AMC 12 if possible.
How should I prepare for the test?
Students in 8th grade or below should participate in the MATHCOUNTS competition and training program.  This will give them a solid foundation for the AMC.
For high school students, the best way to prepare is by taking old AMC contests under exam conditions (timed, no calculator, etc.).  You can find recent problems and solutions for AMC 10 and AMC 12 at the Art of Problem Solving website, or you can purchase official copies directly from the AMC website.  You can compute your score by adding 6 points for each correct answer and 1.5 points for each blank answer.
Thus when practicing, a typical student should strive to maximize their score by leaving questions blank if they have no idea how to solve them.  Scores above 100 points on the AMC 12 and above 120 points on the AMC 10 usually qualify for the next round of the competition, the AIME.  It is very difficult for a beginner to qualify for AIME, so don't expect to do so on the first attempt.  But don't give up.  Your score will improve with practice!
Students who would like to have coaching and instruction in addition to just practicing old exams have several options.  First you should see if the AMC coach at your high school or a local high school is offering practices and a training program.  The Art of Problem Solving website also offers some online classes to prepare students for the AMC 10 and AMC 12.  Exceptionally advanced high school students who live near the University of Scranton can contact me about taking my undergraduate class on Problem Solving.
If you have any questions or comments you can contact us at amc@scranton.edu).